Perfect haircare products for the Ghanaian naturalista
Let's be honest, being a naturalista in this Ghana is hella frustrating. Our beauty industry and market were quite slow in adapting to the natural wave and finding any product at all, not to think of the right one, was like finding a needle in a giant haystack. Today, in this big 2018, it still is a bit hard to find some products. This article will focus not only on great products for your curls or kinks, but where you can possibly or definitely find them to purchase. Below is a tried and true list (some of them by myself) from different brands and countries, both local and foreign. Ladies, immerse yourself:
WENATURALS HEMP OIL MOISTURING AND DETANGLING SHAMPOO:

This shampoo is produced locally by WeNaturals. It's made mainly from African Black Soap (ABS) infused with hemp oil. If you do not know the benefits of ABS for hair, you need to google that, stat. Hemp oil is already legendary, maybe Kuza rings a bell. What's more, there are none of the heavy chemicals in there.
Site: wenaturals.com
DARK AND LOVELY AU NATURALE ANTI-SHRINKAGE KNOT-OUT CONDITIONER: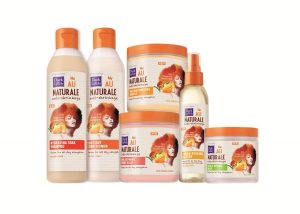 This right here, is the bomb. It smells so good, has a very good amount of slip, contains bamboo milk and mango oil and no mineral oil, parabens or petrolatum. It is a rinse-out conditioner great for detangling, and it defines your curls. Or maybe that's just me whose curls pop with just water (jealous yet?).
Place: your slightly polished local cosmetic shop anywhere, women_of_class on IG, Queens Hall Market
CURLS AND NATURALS LEAVE-IN CONDITIONER: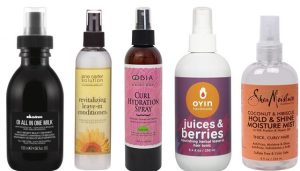 A creamy fluffy heaven made by BioCare Labs. If you watch a bit of local tv, you've probably seen their ads. The advantage, this creamy stuff comes in a thick fat bottle. It's chock full of argan oil, shea butter, honey, Abyssinian oil and others. And guess what, you can put it in your weaves.
SHEA MOISTURE ORGANIC YUCCA & BAOBAB ANTI-BREAKAGE MASQUE: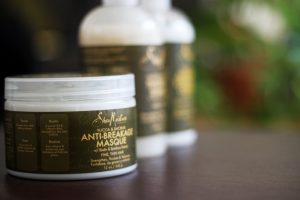 Be ready to break the bank a little if you want to purchase this locally. It's probably best to get someone abroad to purchase and bring it down. It's specially formulated for thin fine hair (like mine) and has yucca and baobab. The texture is creamy and thick, and it's been pronounced as one of the best deep conditioners for strengthening and thickening.
Site: urbanmakes.com
AMLA OIL:
Your protein-moisture balance is perfect, you do all the right things. But your hair still falls out and won't thicken and grow. Or it's an unhealthy shade you don't like. This is your answer. An oil made from Indian gooseberries, it thickens and darkens hair and stops hair fall. I can personally vouch for this oil. It's worked miracles for me.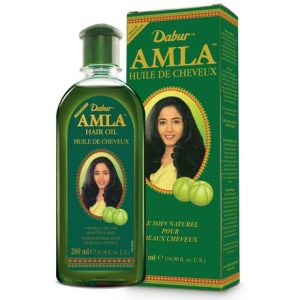 Site: urbanmakes.com (powder), organicproductsgh on IG, Republic Hall market
This article was written by A.A Sarpong. Read more from her through her personal blog here aasarpong.wordpress.com