Top Picks of Wedding Blogs on Instagram. A Collection of Love and Culture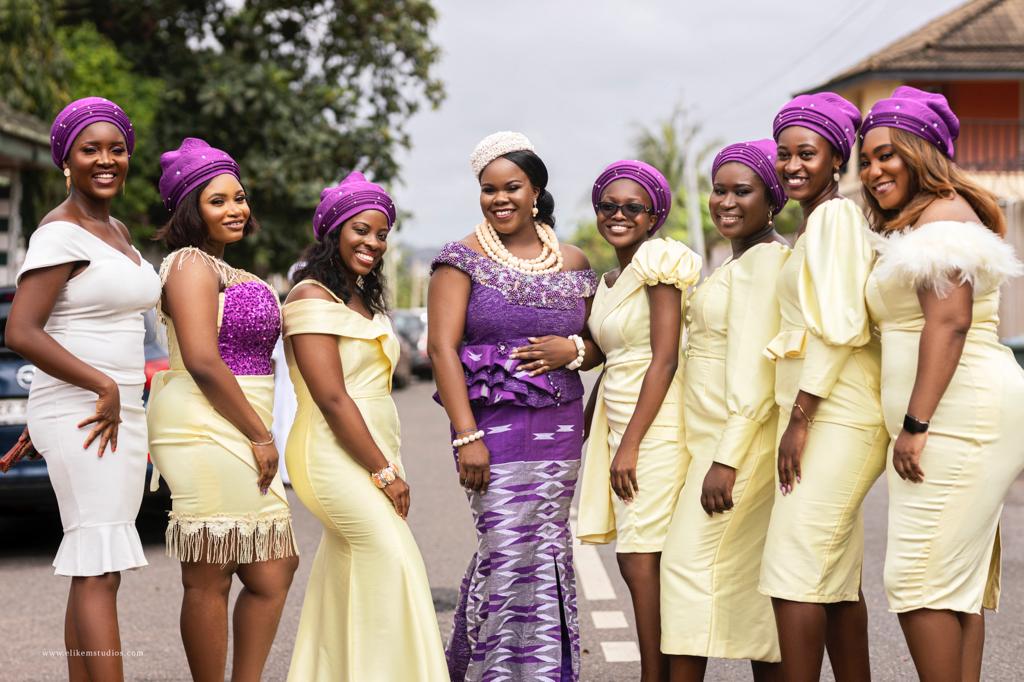 Are you searching for inspiration for your upcoming wedding? Look no further! I am excited to share with you my top picks for the most amazing wedding blogs online. Get ready to dive into a world of love, beauty, and culture. These blogs are the perfect place to find unique and creative ideas to make your special day unforgettable. Let's celebrate love together!

In this article, we unveil the top 10 wedding pages on Instagram that cater to diverse tastes
and preferences of soon-to-be-wed couples.
1. Bella Naija Weddings
If you're someone who loves to keep up with the latest trends in luxurious weddings, BellaNaijaWeddings is a great Instagram page to follow. It offers a glimpse into some of the most beautiful and extravagant weddings of African couples from around the world. From stunning wedding venues to gorgeous luxury gowns and ateliers, photoshoots, and elegant "asoebis," this page has it all. One thing that I particularly love about this page is that it also gives the couple a chance to share their own love story and journey to the altar. As someone who dreams of getting married someday, I can't help but say "eii God when?" while scrolling through their feed. It's just so beautiful and inspiring!
2. Ivorien Weddings
I recently stumbled on this page while I was mindlessly scrolling through Instagram. It was quite
surprising to me as I realized that I wasn't aware of other cultures and how similar they are to
our Ghanaian (Akan) ways. However, I learned a great deal from those pages and found them
to be quite informative. I absolutely adore how beautiful the couples look in their Kente outfits and also how they beautifully show off their culture. If you're also looking for stunning gown styles for your big day, this page is your best bet.
3. Live weddings with Kweku
Embracing the rich cultural diversity of Ghana, LiveWeddingswithKweku is a blog dedicated to
showcasing the beauty of traditional ceremonies and white weddings in Ghana. The creator has revolutionized the wedding industry with his live video blogging and content creation for couples.
LiveWeddingswithKweku captures every moment of a couple's big day, from the wedding dress-
up to the after-party vibes, in a way that is both authentic and effortless. Additionally, it's a great
page to keep an eye on if you want to know whether the man you thought was your man is
getting hitched (just sipping my tea).
4. BridesandBabies
Stay ahead of the curve with BridesandBabies. A bespoke and ready-to-wear luxury brand with
a keen eye for style, class, and sophistication. If you want to look like a Bridgerton Bride, this is
the page to look for inspiration from. Her style exudes a whole lotta class and grace and if you
do have the funds to purchase directly from them, then go ahead. They are located in Nigeria,
(Abuja and Lagos) but frequently fly out to other cities across the globe to meet potential brides.
5. Hermosa Bridal GH
If you're looking for a bridal gown that can be customized to your liking, Hermosa Bridal is the
perfect place to start. They offer gowns from France and the USA, and their Instagram page is a
virtual dreamland of stunning dresses that any bride would want on her special day. From
classic designs to modern and trendy styles, Hermosa Bridal has a wide range of options to
choose from, and their customization options make it easy to create a one-of-a-kind look that's
perfect for you
6. PistisGH
It's impossible to talk about custom-made traditional and wedding gowns in Ghana without
mentioning Pistis. They're truly the OG of the industry, and their designs are simply
breathtaking. If you're looking for a traditional gown that's both modern and timeless, Pistis is
the perfect place to start. While their pieces may come with a hefty price tag, the quality and
attention to detail are well worth it. If you're dreaming of a custom-made gown for your special
day, Pistis should definitely be on your list of top contenders.
7. Modabertha
Modabertha is a great source of inspiration for anyone who loves elaborate and intricate Kente
gowns and designs that celebrate the beauty and significance of Kente cloth in Ghanaian
weddings. Her Instagram page features some of the most amazing traditional and wedding
gown designs that exude pure luxury. Modabertha's creations are truly breathtaking, and
anyone who is looking for unique and exquisite designs for their special day should definitely
check out her page.
8. We Love Ghana Weddings
The We Love Ghana Weddings blog is an absolute delight to scroll through. It provides a
wonderful glimpse into the diverse and vibrant world of Ghanaian weddings. Whether you're
looking for fashion inspiration or just love to marvel at the beauty of weddings, this blog has
something for everyone. If you are looking for stunning styles and fabric ideas, it truly captures
the essence of these special occasions
9. Valdrin Sahiti
For couples looking to infuse their wedding with glamour and sophistication, Valdrin Sahit is an excellent source of inspiration. Hailing from Kosovo, this designer has made a name for himself
by creating stunning wedding and reception dress collections, as well as dressing celebrities like
Beyonce and Cardi B. If you're interested in upscale weddings and high-end trends, this page is definitely worth checking out. You'll find plenty of ideas for creating a truly luxurious and unforgettable wedding experience.
About the Writer