5 pro tips on how to secure the beautiful skin glow you want so much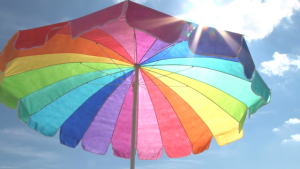 "I've been hustling in the morning, in the afternoon and in the evening" …. This tune, in reality, spoke about the hustle and bustle we face daily in our quest to be productive members of our society.
Through the harsh weather conditions, brisk Accra life and heavy city traffic we forget to take care of our bodies but wouldn't hesitate to purchase screen protectors and fancy phone cases for our dear handheld Apples and Samsung's. The next time we prioritize our phones, kindly remember your skin is your fancy case too.
Aside from your face, your skin is the first thing people may notice when they meet you for the first time. Consequently, adopting particular lifestyle routines will help give you a flawless skin that will earn you tags like ''Dadaba'', "fine boy&Girl" even though you may be as broke or not as fine as being touted.
You may not need expensive creams, balms or lotions to have that beautiful skin you call "Goals". Here are few domestic tips to get that beautiful skin.
Protect yourself from sunlight
It has been confirmed that the ultraviolet light that emanates from the suns ray's causes one to age faster than they actually look, hence it is very important to use the sun protection factor each day. Whenever you are stepping out, always remember to take along your umbrella, it will serve as a source of protection from the sun. You don't only need an umbrella only on rainy days, but on sunny days as well. Doing so will totally prevent the incidence of acquiring early age spots or even more importantly, reduces the chances of getting skin cancer. Don't forget to soak in the early morning sun though as it has many health benefits for you. And oh please next time don't call the girl with an umbrella on a hot afternoon a weirdo or too noo.
Sleep for at least 7-8 hours
Enough sleep makes one beautiful. If you doubt this, just give it a try. When you don't have enough sleep, it robs you of that naturally beautiful look. You will always look stressed and look as though you have been given all the worlds problem to carry. Research has proven that lack of sleep can contribute to dark circles under your eyes. This might be hilarious but researchers in Sweden in 2010 also showed that a group of people had more attractive skin after 8 hours of sleep. SO Yes!! Sleep makes one's skin beautiful. This is also the more reason, why people are advised to sleep more prior to the weddings. This is to help them have a beautiful skin, most importantly beautiful face so they look good on their big day.
Learn to relax
Tension, anxiety and stress can cause the rise of the stress hormone, cortisol in the body. Cortisol is a hormone usually released in the body due to physical stress, anxiety, tension etc. and this has several negative effects on the body, more especially, it causes wrinkles on the skin due to the breakdown of collagen in the body. Stress is also known to worsen certain skin conditions like eczema. Therefore, it is important to find a way of relaxing to avoid stress. Take time off to exercise at home, take a walk when stressed with work and talk to someone when you feel overwhelmed. Remember only talk to people you trust though. Don't say I didn't tell you.
Drink a lot of water
Water, they say is life. Maintaining the water content in the skin is very important to give the skin a healthy look. Each day try to drink at least 8 glasses of water. this will help maintain the water content in your skin. It is very important to drink lots of water each day because we all have busy lives and the water we drink doesn't get as far as the skin surface, it gets evaporated into the air from the skin quickly when we find ourselves in a heated environment, when this happens we lose lots of water from the skin and the skin tends to dry and become unhealthy, hence frequent intake of water helps to replace lost water and maintains the content of water in the skin to give it that healthy look.
Cleanse your skin before bed each night
Sun damage isn't the only factor you have to worry about and oh! Those of you who don't wear make-up are not excluded either. Microorganisms from dust, air pollutants, litter, fumes should not be left on the skin. Remember to cleanse your face thoroughly because if you don't, anything you put on the skin be it, moisturizer, lotion etc. will not work like it's supposed to. Hence take about 2 minutes or even less to cleanse your face with a "calm" cleansing balm to eradicate anything that could be destroying or weakening the skin. Also very importantly, take off your makeup before sleep no matter how tired you may be, so your skin can breathe and renew itself.